FEMALES WITH "THE LOOK" ONLINE SALE
Location: Welsh, Louisiana | Auction End Time: 7:00 PM CENTRAL TIME OR 19:00 CENTRAL
Brahman Friends,
In 2021 and 2022 we welcomed some of our best cattle at the ranch in Welsh, Louisiana. The "Maximus" influence continues to shape the American Red Brahman at home and at ranches all over the globe. While he's pushed our program in ways we could only imagine; we also rely heavily on true cower power in our herd. The WCC females carry our signature "look" which is known in both the show ring and as pivotal breeding pieces for cattlemen near and far. You might ask, what is that particular "look." Well, the WCC female is elegant in her appearance while exhibiting near perfect Brahman breed character. She's productive, sound structured and has added power and muscle. Our females stem from planned matings, mostly 2 generations out which give them a predictability factor when creating the next generation of superior Brahman Cattle.
We feel this set represents some of the most progressive Red Brahman females in the industry and have the "look" for the show ring or the pasture. Thank you for taking the time to study each lot and their outstanding pedigrees.
Best,

---
Lots are avaialble now!
**

If you have any questions or problems signing up and registering please contact us at contact@bestcattlesales.com or call The Brahman Journal office at 979-826-4347. After hours call or text Victoria Lambert at 713-806-3998.
This Sale will feature the Best Cattle Sales "All Bids In – All Lots Sold" or a modified "Horse Race" style closing format.
The sale starts to close at 6:55 PM on Tuesday, September 13 as it takes 5 minutes of no bidding on ANY lot for the sale to close. If there is no bidding between 6:55 PM and 7 PM on Tuesday, September 13 the sale will close. If there is a bid on ANY lot the sale remains open UNTIL all bidding activity ends. Every time there is a bid the clock resets and another 5 minutes is added to closing time. It is suggested to all bidders to watch your lots until the sale is completely closed.
Example 1: Auction closes at 7:00 PM. There is no bidding from 6:55 PM to 7:00 PM. All lots are declared closed and the sale ends at 7:00 PM.
Example 2: Auction closes at 7:00 PM. There is a bid placed at 6:56 PM and countdown clock resets to 5 minutes. Auction is extended. No more bidding occurs. All lots are declared closed and the sale ends at 7:01 PM.
Example 3: Auction closes at 7:00 PM. There is a bid placed at 6:57 PM and countdown clock resets to 5 minutes. Auction is extended until 7:02 PM. Another bid is placed at 7:00 PM. Another bid is placed at 7:04 PM. Another bid is placed at 7:08 PM and countdown clock resets to 5 minutes. Auction is extended. No more bids are placed. All lots are declared closed.
For additional information on the sale close process, please visit our bidder FAQ page.
---
SALE TERMS & CONDITIONS
PAYMENT: Terms of the sale are cash or cashier's check, due upon receipt and before animals leave the ranch. Unpaid accounts will be billed at 18% APR beginning thirty (30) days following sale. Upon receipt of payment, the seller will transfer the registration paper if applicable to the buyer as soon as possible. If full payment is not received within thirty (30) days, then upon written or electronic notice to buyer, the breeder shall retain ownership of animal with full property rights, including the ability to sell the animal to another buyer.
FEEDING TERMS: Cattle will be provided free care until September 20, 2020, after which feed is billed at $10/head/day in the pasture. These charges are not designed for the seller to make money, just to cover the costs. Any veterinary expense will be the owner's obligation. All accounts will be billed monthly. Feed charges must be paid in full when the cattle are picked up.
LIABILITY: Ownership of the animal transfers at the time of sale and the buyer bears the risk of injury, disease or death, which may occur.
HEALTH: Animals have been provided the utmost care, nutrition, and vaccinations under the guidance of the sellers veterinarian. Animals are assumed sound and healthy at sale time.
TERMS AND CONDITIONS FOR THE SEMEN:
One conventional straw of MR WCC 296/8 "BIG RED" with the purchase of each lot. Semen cannot me traded, sold or donated. In the US semen certificates will only be released in the name of the buyer. Additional certificates are $100/1 coordinated by ST Genetics.
SPECIAL NOTES:
LOT #01 – Is considered the powerful heifer of the group. The remaining lots are top replacement females from our private selection of "keeper" females and are not halter broke. All handle with ease.
Watkins Cattle retains a breeding interest for an IVF procedure every other year after the female's first calf if the female stays in the United States for LOTS #01, #03, #06 and #07. The female will be dual papered so that Watkins Cattle Company can register future progeny. Owner has 100% possession and owns all natural calves and the embryos produced from the owner out right. Owner can sell embryos or IVF's on their own accord. The breeding interest retained by Watkins Cattle Company transfer with any future sale of the female.
TRANSPORTATION AND PICK UP: 
Females must picked up from Becker Livestock in Bryan, Texas within 7 days of the sale. Transportation and extended daily management services can be arranged with james and Kim Becker at 979-229-9682.
All animals will be DNA verified and on file with ABBA.
HOW TO REGISTER ON THIS SALE
The first thing you need to do is make sure you are signed up to bid. If you have never signed up you will need to sign up on our Sign Up Page. On the Sign Up Page you will be asked to create an account. See the below image for an example of the form.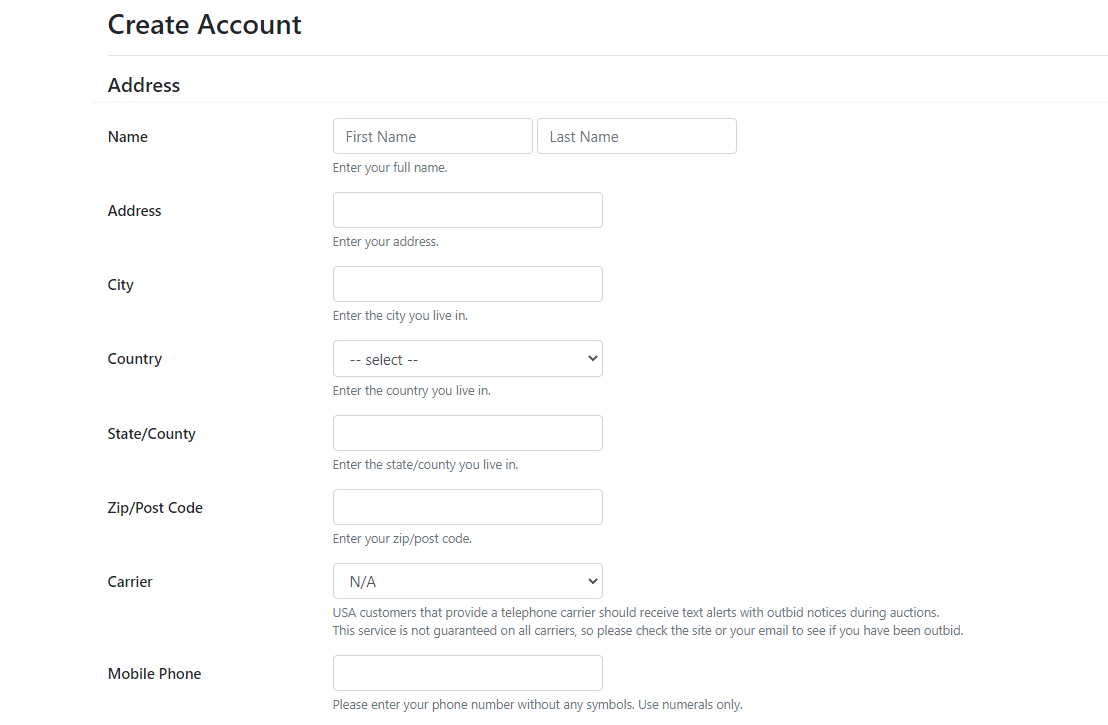 You will also be asked to create a username and password. You MUST have a valid email address in order to SIGN UP AND REGISTER FOR THIS SALE. Remember to hit SUBMIT at the end.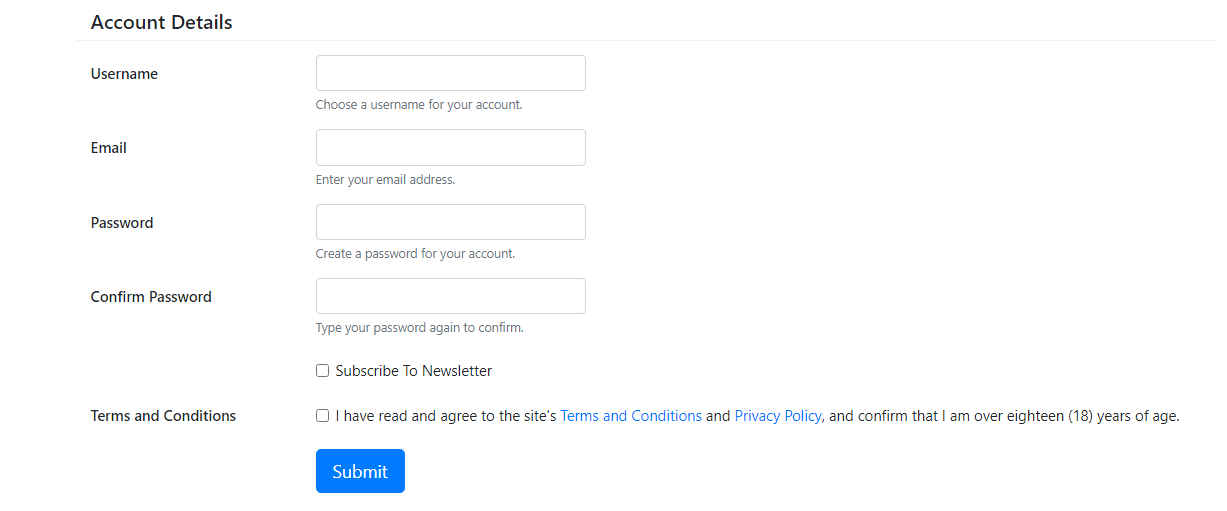 You are almost finished and ready to REGISTER for the this sale! Simply check your email and activate you account. Once you click on the verification of your email you will see this screen.


If you do not see the above screen then you should see this screen and you can request for the verification email to be resent.

If you still do not get the verification email please send us an email and we will help get your email verified.
Once you are signed into your account click to Register for this sale. On the home page of Best Cattle Sales  look in the drop down for the Category  –  FEMALES WITH "THE LOOK" ONLINE SALE – WATKINS CATTLE. Remember – You MUST be signed into your account in order to REGISTER.  Look for the RED button that says Register For Auction. You will only need to REGISTER one time.